Reminiscent of the golden calf that was worshipped during the time of the Exodus in the bible the massive Trump effigy was seen being rolled into the Conservative Political Action Conference on Thursday evening.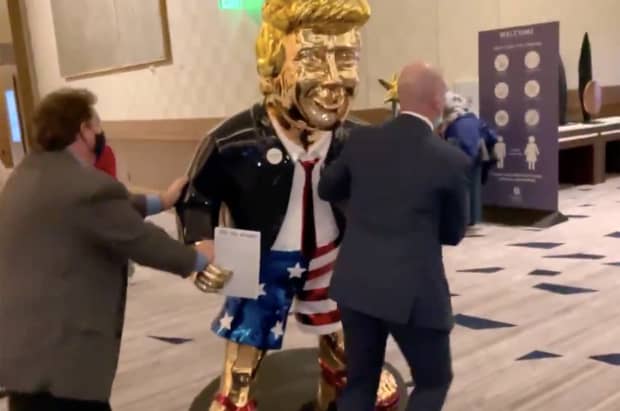 The gold statue is seen wearing a pair of Stars and Stripes shorts, with a suit jacket, white shirt and a tie.
The Trump effigy is also holding what appears to be a magic wand.
Footage shows supporters taking selfies with the statue and watching in awe as it is rolled through the building.
Trump is set to make his first post-presidential appearance at the conservative gathering in Florida this weekend.
Republicans wheel in the golden calf as they prepare to wander the electoral desert for 40 years. https://t.co/S1x8xhbVCA

— Wesley Clark (@WesClarkjr) February 26, 2021
As many people have noted in the replies, it appears the conservative "Christians" of the Trumpian right have gone all-in on worshipping their golden calf. Perhaps @marcorubio can recall the appropriate verse in his tweets… https://t.co/8WA1i1oBdw

— Joy-Ann Pro-Democracy & Masks Reid 😷 (@JoyAnnReid) February 26, 2021
Ian Walters, spokesman for the American Conservative Union, confirmed that Trump will be speaking at the group's annual Conservative Political Action Conference on Sunday.
Trump is expected to talk about the future of the Republican Party, as well as to criticize President Biden's efforts to undo his immigration policies, according to a person who spoke on condition of anonymity to discuss the plans.
CPAC will feature a slew of former Trump administration officials and others who represent his wing of the GOP, including former Secretary of State Mike Pompeo, Florida Gov Ron DeSantis and South Dakota Gov Kristi Noem.
You really can't make this shit up.

1st 2 Commandments.

You Shall Have No Other Gods Before Me.

You Shall Not Make Idols.

According to the Bible, the golden calf was an idol made by the Israelites when Moses went up to Mount Sinai. Also known as the Sin of the Calf. https://t.co/opN43JUrP8

— Andrew Goss 👊USAF👊 (@Goss30Goss) February 26, 2021
Trump has been keeping a relatively low profile since he retired from the White House to Palm Beach, Florida, in January, but reemerged last week to conduct a series of phone-in interviews to commemorate the death of conservative commentator Rush Limbaugh.
During a conversation with Fox, Trump again claimed that he won the 2020 election and said the nation is "angry."
"Rush felt we won and he was quite angry about it," he said.
He also doubled down on his opinions on his claims that there was election fraud, dubbing the results as "disgraceful."
Trump said the United States was a "third world country on election night," saying "you don't know how angry this country is."
He added that he still believes that his administration "won substantially," despite having left office last month.